Interactive Online Early Literacy Program
Bring a fun and interactive learning program to children ages 3 to 6 in your community.  You can help prepare preschoolers for kindergarten and beyond by delivering an educational program that introduces key concepts in math, science and social studies, language and literacy, art, and music.  It's the only solution that helps children learn while having fun AND provides parents with tools to measure their child's progress.  Miss Humblebee's Academy:
| | |
| --- | --- |
| • | Prepares children ages 3 to 6 for kindergarten proficiency |
| • | Includes hundreds of guided lessons with sound cues across many disciplines |
| • | Assesses skill levels and reports outcomes regularly |
| • | Emails parent a link to view weekly progress report |
With a combination of online and offline learning opportunities, kids can play and learn anywhere.
| | |
| --- | --- |
| • | Access at the library or at home on a computer |
| • | Access on mobile devices (iPads and tablets) |
| • | 20% of the curriculum available as printables and practice worksheets, giving children practice using writing tools |
Serious fun
Miss Humblebee's academy brings together solid educational principles and lovable, appealing characters.  The program presents learning concepts based on the U.S. Department of Education, Head Start Child Development, Common Core State Standards, and the research of the National Council of Teachers of Mathematics (NCTM), and National Association for the Education of Young Children (NAEYC) and Center for Disease Control and Prevention (CDC).
Best of all, learning outcomes are measured with such tools as the cognitive assessment, observational checklist, and progress report. Feedback is available to parents as well as to the library (in aggregate).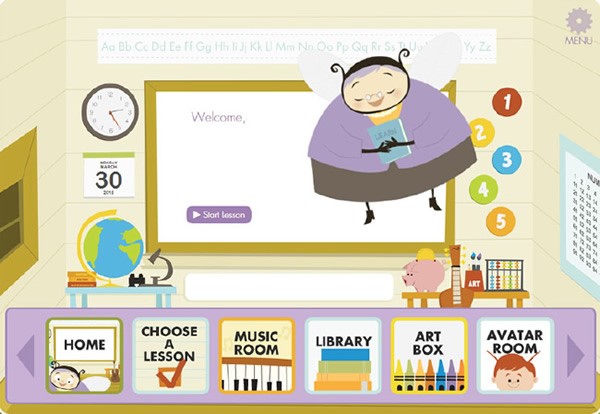 Assessments abound
Parents receive several assessment measures to provide insight into their childrens' learning progress.  The cognitive skills assessment:
| | |
| --- | --- |
| • | Establishes a baseline of kindergarten readiness |
| • | Measures improvement compared to subsequent cognitive skills assessments (every six weeks and after 100 lessons) |
| • | Benchmarks kindergarten readiness compared to industry standards |
| • | Provides access to reporting 24/7 |
| • | Typically takes about 30 minutes, and can be done all at once or stopped/started to suit time/attention constraints |
In addition, a parent observation checklist allows parents to review and record social, emotional and physical growth as a condition of kindergarten readiness.

Parents can remain informed about their child's status with progress reports that:
| | |
| --- | --- |
| • | Help identify a child's strengths and pinpoint trouble spots |
| • | Show improvement over time |
| • | Measure progress based on length of practice time |
The experts agree
We think Miss Humblebee's Academy is effective, fun, and a boon to every community.  And we're not the only ones.  See what a reviewer at EdTech Review says:
"Miss Humblebee's Academy is simple, clean and presents the ideas clearly.  It actually evaluates if the child comprehends the new concepts and sends parents progress reports, which helps them to know what their child is doing and how well they understand new skills.  If you are a parent of a preschool age child, I recommend checking out Miss Humblebee's Academy."