Because we work continuously to improve your research experience, we've got great news for you. These accessibility and usability updates are coming soon to your Gale literature resources:
Literature Criticism Online, Dictionary of Literary Biography Complete Online, and Something About the Author Online are getting a new, mobile-responsive interface (available August 19th; transitioning fully in December 2016).
Artemis Literary Sources, the cross-search environment for these and other Gale literary databases, will also transition to the new mobile responsive platform.
Below you'll find details about migrations and changes coming your way.
The New Mobile-Responsive Interface
Overview
Literature Criticism Online, Dictionary of Literary Biography Complete Online, and Something About the Author Online are joining Literature Resource Center and other popular Gale literary databases on a new mobile responsive platform! The same content, the same search paths, and the same toolkit await users on a new, updated interface.
You'll discover a modern design and toolset with a user experience that's optimized for all screen sizes, regardless of device, through responsive design. Other changes include improved navigation and streamlined user workflow, content featured in prime locations on the page with toolbars and filters, as well as, high-contrast banners & buttons to make web content easier to see and hear for those with vision impairments.
As part of this update, Gale is pleased to introduce Gale Literary Sources, our new literature cross-search platform. Gale Literary Sources features a new, mobile-responsive design with all of the same features of Artemis Literary Sources, but in a clean and intuitive user-friendly interface.
Features Optimized to Support the User Workflow
In Gale Literary Sources, Topic Finder helps researchers make visual relationships between concepts and terms.
Gale complies with Web Content Accessibility Guidelines 2.0 to make our information available to people with disabilities, including those with blindness or low vision. Each resource will adopt a high-contrast header with white text and improved tool buttons, which makes it easier for users to see content. With this stronger separation of background and foreground, accessibility is improved for those who choose to listen to the content as well.
Through extensive user testing and product usage reporting, we've identified the most popular user tools and accentuated them in the top header. All other features can be found behind a familiar three-bar "more" button and ranked in order of popularity.
Because responsive design optimizes web content for mobile use, the display will automatically be optimized for any screen size on any device with no app required. These changes ensure that high-quality and easy-to-use research tools fully support schools and students participating in BYOD and 1:1 initiatives.
Popular icons used across the web and in mobile apps make it easy for researchers to quickly identify and understand the use of each tool.
Coming soon…and at your convenience
The new mobile-responsive experience will be available on August 19, 2016, for Literature Criticism Online, Dictionary of Literary Biography Complete Online, Something About the Author Online, and Artemis Literary Sources. Beginning on this date, a preview link will be placed prominently on banners within the resources.
Automatic migrations to the new experience will take place in December, 2016 (no action needed).
If you would like to upgrade to the new experience earlier, please complete the form on the right side of this page and we'll work with you to enhance your resources at your convenience.
A Look Inside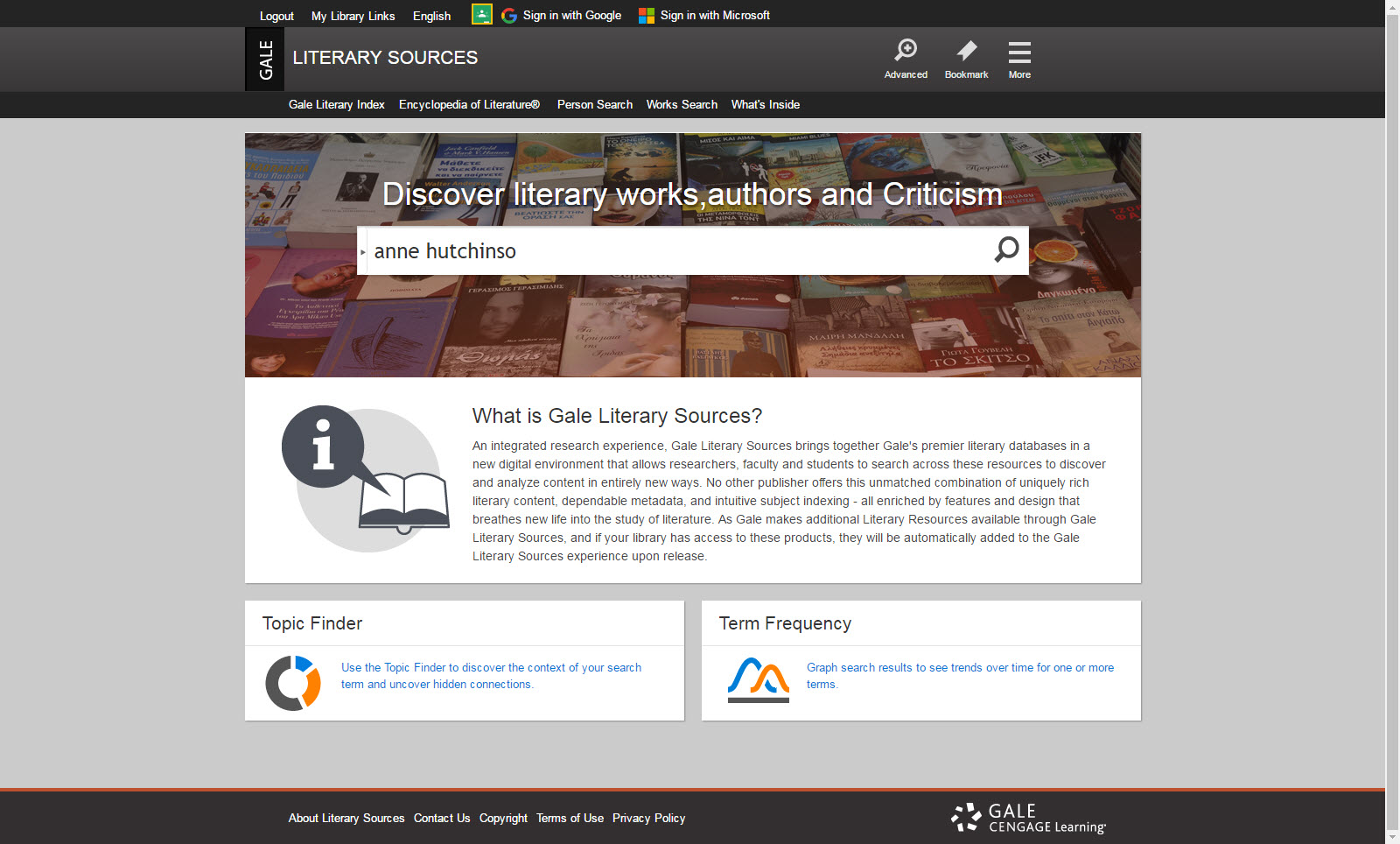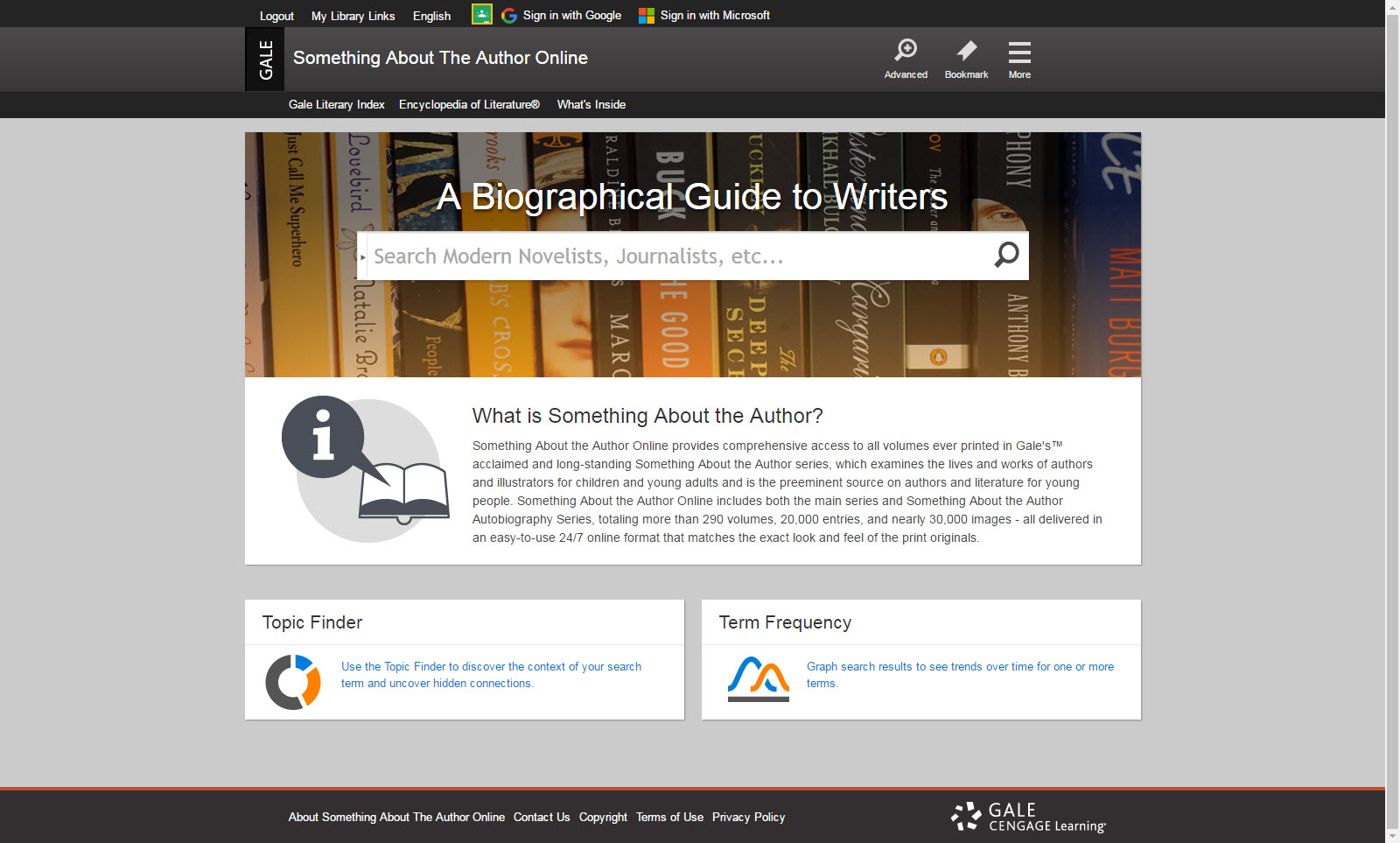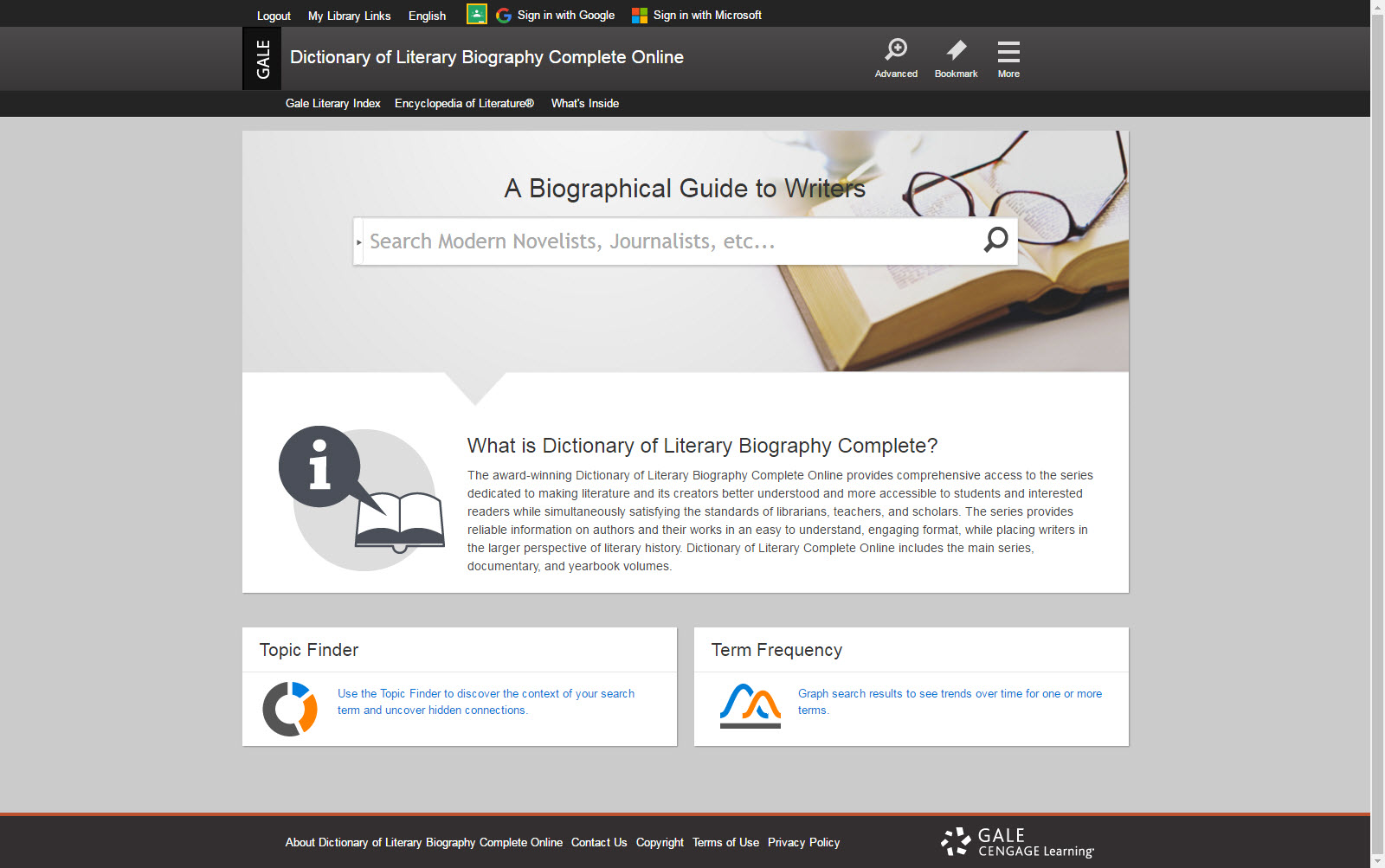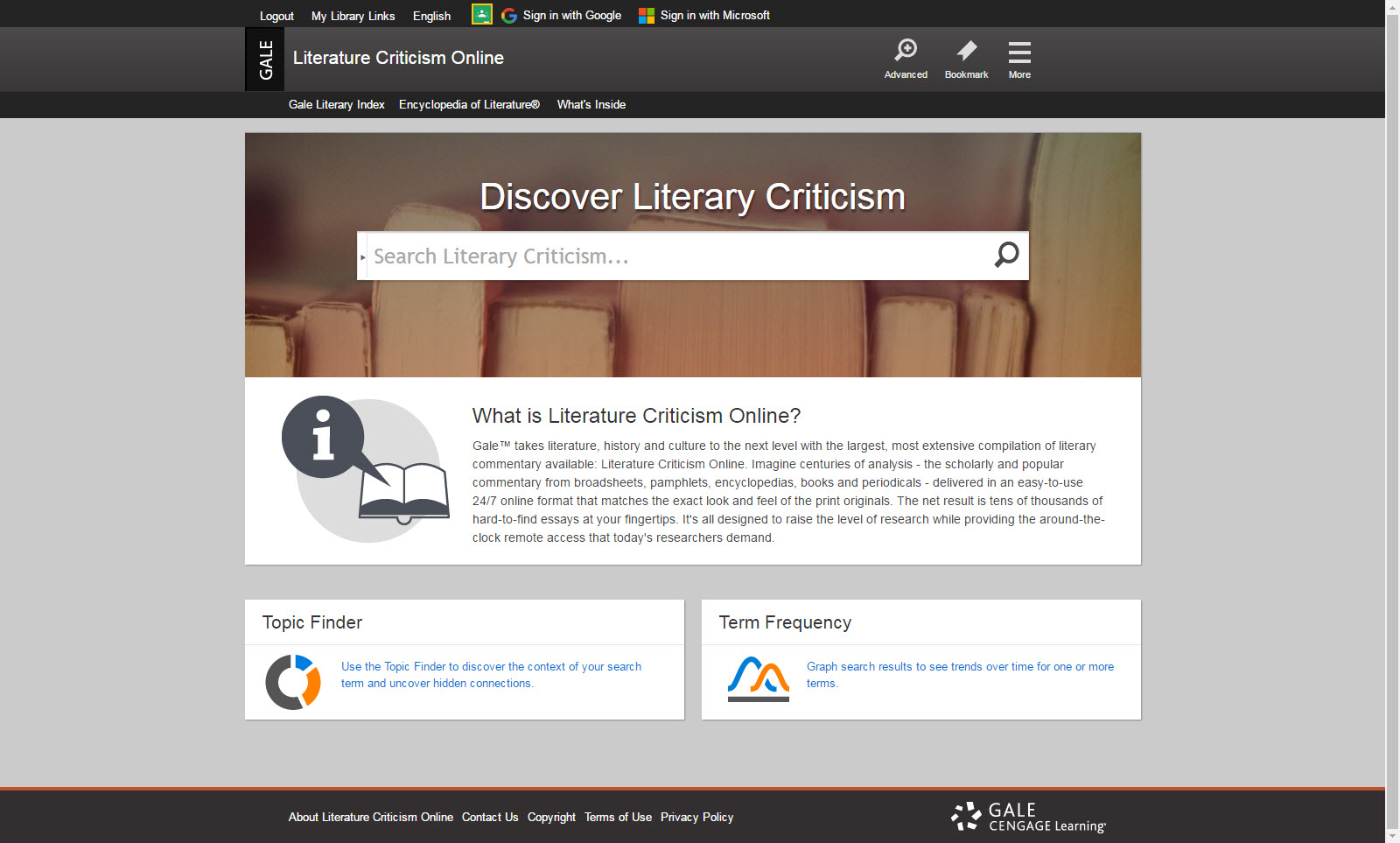 * These screenshots were taken from a development website and may vary slightly from the final design.
Gale Literary Sources
Gale Literary Sources is a groundbreaking research environment that unifies digital connections to enable innovative research. This unique platform provides an unprecedented, seamless research experience that helps researchers of all levels find a starting point, search across a wide array of materials and points in time, and discover new ways to analyze information.
No other publisher offers this combination of uniquely rich full-text content, dependable metadata, and intuitive subject indexing—all enriched by workflow and analytical technology that breathes new life into the study of the humanities.
ThroughGale Literary Sources, users can cross-search through:
A subcollection of GVRL titles [GVRL is a database of monographs, encyclopedias, and specialized references sources for multidisciplinary research]
Literature Criticism Online, one of the largest, most extensive compilations of literary commentary available
Literature Resources Center, offering up-to-date biographical information, overviews, full-text literary criticism, and reviews on more than 130,000 writers in all disciplines, from all time periods and from around the world
MLA International Bibliography, citations for hundreds of thousands of books, articles, and dissertations from 1926 to the present, linked to full text where available
LitFinder, containing a wealth of literary works, including over 150,000 full-text poems and 800,000+ poetry citations, as well as short stories, speeches, and plays
Scribner Writers on GVRL, providing original essays on the lives and works of authors from around the world and from all time periods
Twayne's Authors on GVRL, devoted to offering in-depth critical introductions to the lives and works of major writers of the world within the context of the time period in which they lived
Dictionary of Literary Biography Complete Online, signed essays written by scholars provide essential context for understanding the careers and writings of more than 12,000 authors from all time periods and from all parts of the world
Something About the Author Online, engaging biographies of classic, contemporary and emerging authors and illustrators of children's and young adult literature
Contemporary Authors Online, current biographical and bibliographical data on more than 120,000 modern authors
Gale Literary Sources provides a groundbreaking research environment that enables unprecedented discovery, relevance, and simplicity, including:
Term Frequency: The term frequency tool helps researchers track central themes and ideas. Researchers can now see the frequency of their search term in content to assess how individuals, events, and ideas interacted and developed over time.
Term Clusters: The term clusters tool allows students to thoroughly develop their research topic. By identifying and organizing commonly occurring themes, this tool reveals hidden connections to search terms—helping students shape their research and integrate diverse content and relevant information.
Search Assist: Detailed subject indexing guides students in gathering relevant information from multiple sources to expose connections that simple search and retrieve does not. Whether conducting a short or a sustained research project, students will perform advanced searches easily to synthesize and select appropriate information.
Training materials to support your transition: